Ingredients
1 kg chopped lamb neck
1 kg sliced lamb shank
3 x large onion, sliced
3 x large potatoes, cut into chunks
250g large mushrooms, sliced
250g small carrots
250g baby marrows
250g mini corn
250g brown onion soup powder
10ml dried rosemary
10ml salt
200ml beef stock (1 tablespoon beef extract dissolved in water)
250ml red wine
FOR SAUCE
250ml ideal milk
250ml chutney
1 heaped tablespoon medium curry
Instructions
Place your potjie pot over prepared coals and heat oil.
Once the oil is hot, sauté sliced onions until golden brown. Remove the onions.
Place lamb neck and shanks in the heated potjie and brown. Add salt and rosemary.
Once the meat is well-browned, add onions, red wine and beef stock. Leave to simmer for 1 hour, 15 minutes.
Add potato chunks, carrots and brown onion soup powder. Simmer for 30 minutes.
Add mushrooms, baby marrows and mini corn. Simmer for 30 minutes.
Mix sauce ingredients and add to potjie, leave to simmer for an additional 15 minutes.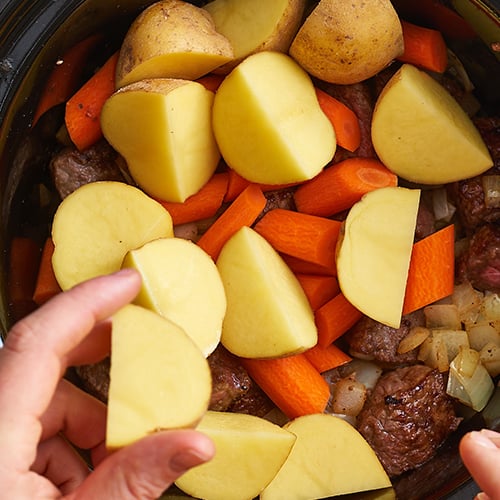 Tip 01
With such a long cooking time, it's important to layer your ingredients. The meat, which needs the longest cooking time, should lie at the bottom of the pot, closest to the coals. Your vegetables should be layered above that, with the softest ones at the top.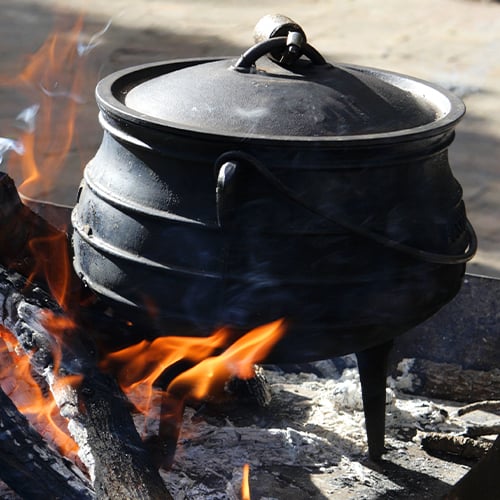 Tip 02
The secret to a flavoursome potjie is the time it takes to cook, which allows the flavours to mature. So make sure you keep your coals alive, but small. If the pot gets too hot underneath it will burn the food.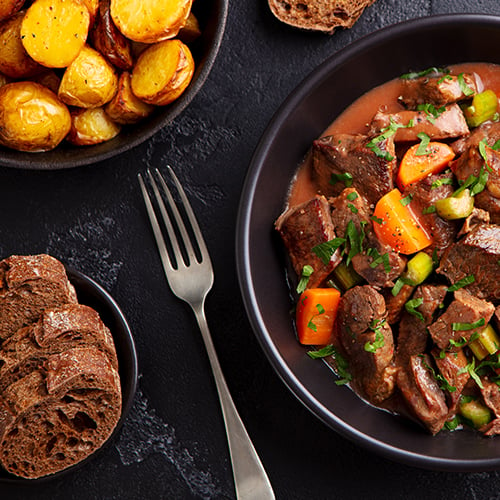 Tip 03
Never stir your potjie. The slow stewing action of potjie means no stirring is required - just let those delicious flavours stew up to perfection.